Nutritional Therapy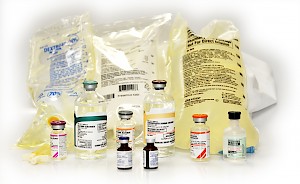 When a patient cannot eat a normal oral diet, or sustain healthy nutritional status due to their medical condition, Spectrum Infusion can provide nutritional support in the home for patients through the use of Total Parenteral Nutrition (TPN).
Our experienced Nutrition Team includes a pharmacist and nurse who work closely with the prescribing MD and/or dietician to provide comprehensive care to the adult or pediatric patient.
Spectrum Infusion offers the following to our TPN patients:
Nutritional assessment
Patient and caregiver education and training
Weekly clinical monitoring of labs and nutrition progress
Physician updates on patient progress or recommendations for any changes
24-Hour On-call availability for any issues
Reimbursement assistance for correct insurance coverage
TPN therapy can be a short-term or long-term therapy. Feel confident in our clinical staff's ability to safely manage this complex therapy.
Spectrum Infusion, Inc.
3221 Blue Ridge Rd.
Suite 101
Raleigh, NC 27612
(919) 781-2241
(800) 942-6007
(919) 781-7060 fax
online contact form
To Coordinate All Needed Services:
1. Write order in the patient's chart:
"Consult Spectrum Infusion for Home IV Therapy"
or
2. Call Spectrum Infusion directly:
(919) 781-2241
(800) 942-6007
(919) 781-7060 Fax